Antigua Guatemala
The tent-like pyre of wood in the hotel fireplace was so tempting. We just had to light it.
Who knew we'd nearly burn the place down?
We struck a long, wooden match and touched it to a splinter. A small flame licked, then snuffed out. Again and again we tried, but the wood would only glow, never quite catching. Problem was, it was too damp.
So when one stick finally caught, the result was more smoke than flame. Lots of smoke. Soon the room was filled with it.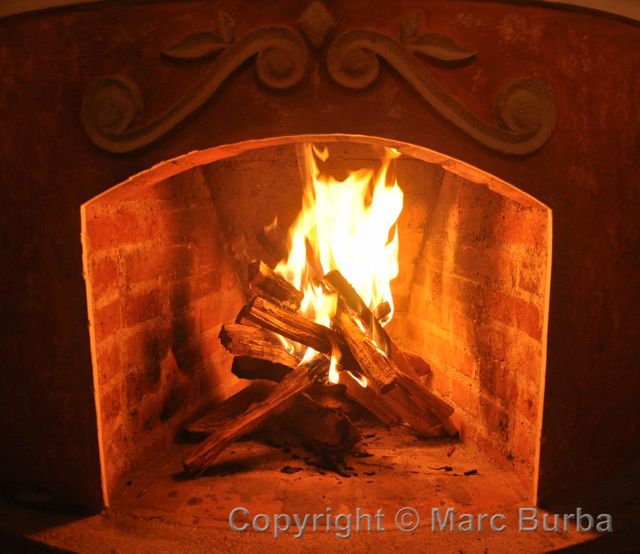 We opened the window to the courtyard of the six-room D'Leyenda Hotel, and I furiously fanned the door to force the thickening cloud out. Soon the courtyard was smoky too.
The night manager saw our plight, probably a little embarrassed for us. He removed the steaming wood and brought in new, drier tinder. Soon he had a robust fire burning, and the smoke began to clear.
The fire grew stronger and the manager left us to enjoy it. The wood pile, however, collapsed as it burned, and we feared it would fall out onto the rug and light the entire place (there was no protective screen). One ember did pop out and land on the rug. I had to step on it, leaving a sooty, burned spot. We spent the next hour or so afraid to leave, afraid to sleep, in case the fire spread or smoke filled the room again and silently killed us.
Even though we didn't destroy the hotel, I figure Mother Nature will eventually. Antigua doesn't have a good track record. The onetime capital of Guatemala was rocked by an earthquake in 1717 that damaged many buildings. In 1773, a series of earthquakes finished the job, toppling many of the ornate churches and convents. The badly damaged city was largely abandoned for two centuries, leaving many of the ruins intact. They are now its main draws. Earthquakes still rumble through, and three volcanoes towering over the city remind everyone that nature can awake with a vengeance at any moment. We hiked up the nearby Pacaya Volcano for sunset views during our stay. Pacaya, though threatening, isn't even visible here.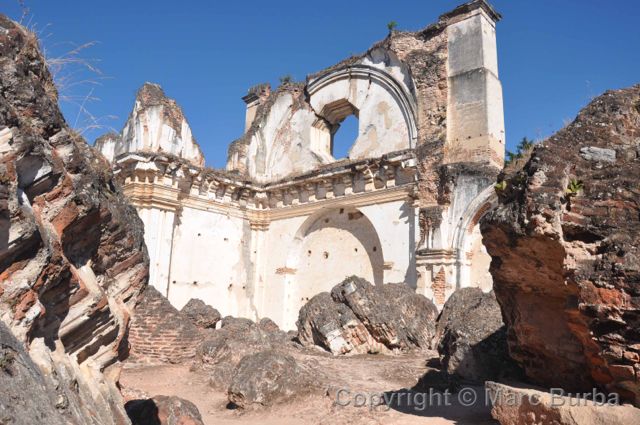 Our favorite earthquake ruin was the monastery of La Recolección. The site is a bit off the main tourist track — only a few people were there on this sunny weekend day, and some of them were locals. The power of the 1773 quake is palpable here. Huge chunks of the structure, each likely weighing a few tons, still lay where they fell inside an intact, arched entry and still-standing walls. Roaming inside is like navigating a giant obstacle course. Parts of some buildings in the complex are intact too, down to the ornamental reliefs on ceilings. Inner courtyards are green and well-maintained. It's a popular spot for picnics.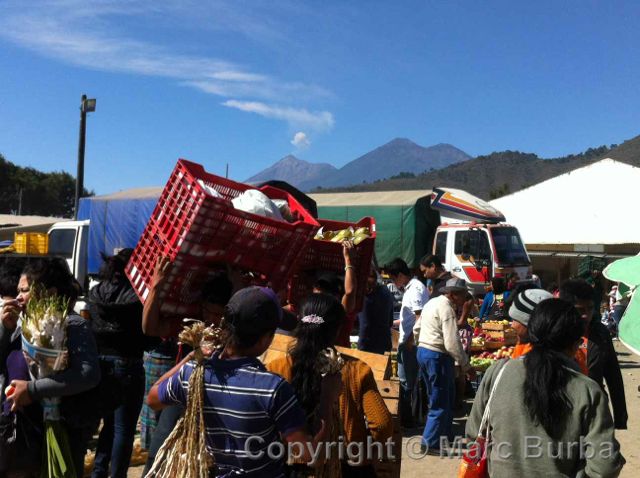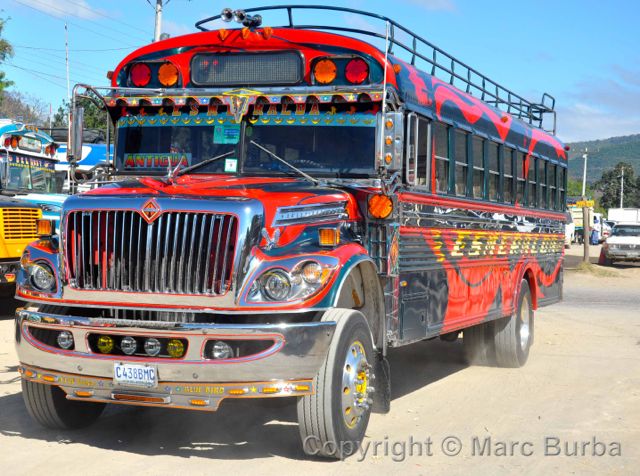 A few blocks away, local farmers and other vendors sell food, crafts, clothing, electronics, and toys in a crowded, chaotic market. Sellers pull heavy wooden carts or balance impossibly full baskets on their heads to get their products to their stalls each day. We had to be careful around a few turns so we didn't get jostled into piles of raw chicken and meat for sale. People from all over the countryside come here to buy or sell. Crowded, colorful chicken buses speed into the dusty parking lot to belch out passengers. In the distance, Fuego volcano belches ash clouds every few minutes, like Old Faithful.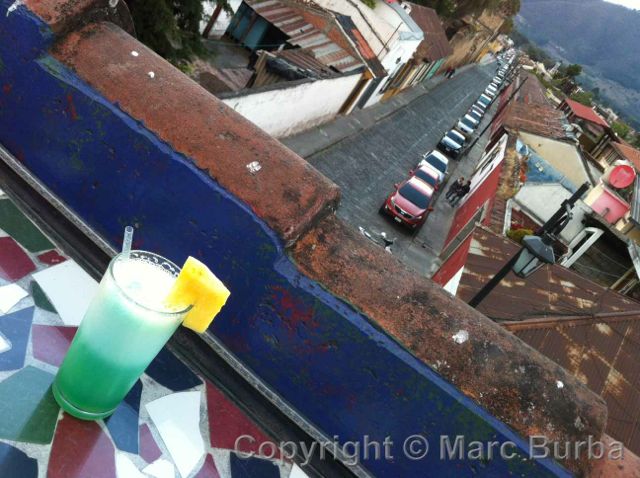 The old city has so many good places to eat: La Fonda de la Calle Real for caldo real, a chicken soup; Epicure for a quiet outdoor lunch; the Filadelfia coffee plantation for a Sunday afternoon Guatemalan buffet; and candy shops and bakeries for quick doses of energy. The small bars we stopped in were hit or miss — mostly miss — but on our last full day the hotel staff recommended that we walk over to Café Sky for a drink on a rooftop bar as the sun set. The drinks were good and strong, and the views of the town were unbeatable. It was a fine cap to a fun weekend.